Imagine living a life with no arms or no legs. Imagine living in a world where everyone could see your differences, your 'abnormality', your 'weakness'…
Would you still have hope? Would you still believe in yourself?
Nick Vujicic does.
Nick Vujicic was born in 1982 with a rare disorder called Tetra-ameilia syndrome. Without any medical explanation or warning, Vujicic (pronounced Voy-a-chich) was born limbless. Having no arms or legs, he could not live life the way other 'normal' children could. He eventually became so lonely and depressed that he tried to take his own life when he was 10. He often wondered if his life had a purpose, and why God would create him with no arms ands legs.
With the help and support of his parents, Vujicic began to embrace his disability and adapt to his situation. He began to do the 'impossible, and found ways to accomplish the daily tasks of life, which usually required the use of limbs such as: writing, typing (by using the "heel and toe" method, brushing teeth, answering the phone, shaving, and throwing a tennis ball.
Now 27, Nick is known as a motivational speaker, a pastor, and an author. Nick believes that there is a distinct purpose of each struggle we encounter, and that our attitude toward those struggles is a salient tool in overcoming them. He be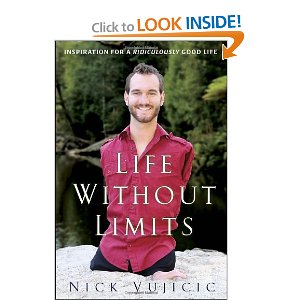 lieves in dreaming big, and using personal difficulties for good. He now travels the world to encourage others with his story of finding hope and joy through the struggle of his physical disability.
He is the founder of a non-profit organization called Life without Limbs, and has his own motivational speaking company called Attitude is Altitude. He published a book in October 2010 called Life Without Limits: Inspiration for a Ridiculously Good Life and has talked to many people (and even leaders) around the world. He recently got married (which was a life-long dream of his) to Kenae Miyahara on February 12, 2012.
He is truly an inspiration to me, and I encourage you to read his book and watch his talks on YouTube.