Practice makes perfect, especially when it comes to spelling words. Instead of boring repetition drills or using the outdated method of writing something 100 times, there are many activities students can participate in to practice weekly spelling words.
To start, I downloaded a great resource from teacherpayteacher that guides students to trace, write, build, find and use their spelling word in a sentence. Then, I have students use magnetic foam alphabet blocks and dry erase markers to write and build their words three more times during a rotating center.
To reinforce the skills with an adult, my students can then practice writing their words in sand while saying the word and each letter of the word out loud.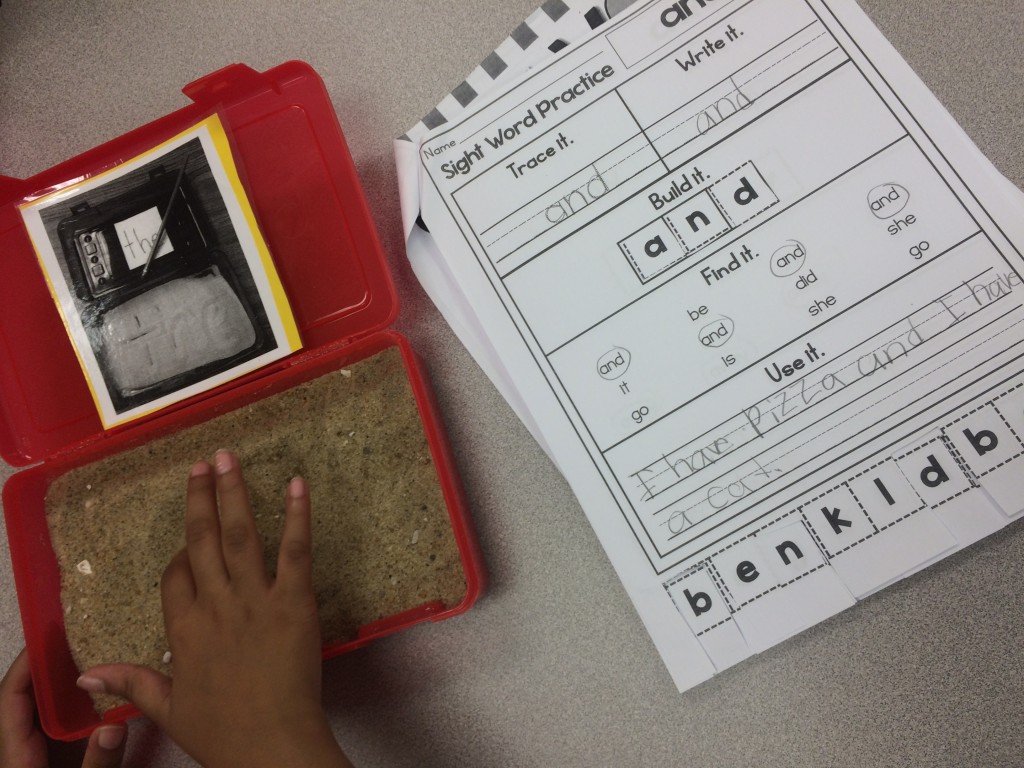 For homework, students can choose from a variety of activities that reinforces the words at home. Here are some ideas below:
Write the word 3x times using pencil, colored pencil, and crayon
Write the words in rainbow colors
Write the words in ABC order
Write a sentence for each word
Write or type a story using all your spelling words
Stamp the words
Build the words with legos, clay, dough, yarn or pipecleaners
String the words together using letter beads
Write the words in a verticle pyramid format. For example: l, lo, lov, love
Practice building the words using magnetic letter blocks
Type spelling words on the computer
Spell words in a sand or salt container
Trace words on the back of your hand
Spell words in shaving cream
Trace letters into the air (sky write)
Use ABC blocks to spell words (Scrabble)
Build words using ABC stickers
Use q-tips and paint words
Write words in glue and add glitter
Use newspaper and magazine to clip letters to build words
We use a spelling notebook to keep track of their progress and their words. All words are individualized so a spelling book helps everyone stay organized. Please feel free to use some of these ideas in your classroom! 🙂 Enjoy!