What is applied behavior analysis (ABA)?
Applied behavior analysis is a field that works with individuals to determine the function of behavior as well as environmental reinforcers that encourage or discourage the likelihood of individuals displaying target behaviors.
What is a target behavior?
A target behavior is any behavior that is being addressed or talked about by a professional, parent, or client.
What is a problem behavior?
A problem behavior is an action or verbal statement that is deemed inappropriate.
Why do people engage in problem behavior?
According to the field, there are four functions (or reasons) individuals engage in any behavior: attention seeking, access to a tangible (item), sensory stimulation (produces a good feeling), or avoidance (of a task, person, or environment). In short, individuals engage in multiple behavior to get what they want or don't want.
What is a replacement behavior?
A replacement behavior is an agreed upon appropriate behavior that serves the same function as the problem behavior displayed by the individual. A replacement behavior must be: developmentally appropriate, context appropriate, and provide the same access to the desired function of the behavior. Essentially, it replaces the problem behavior in exchange for a more appropriate behavior.
What is the ABC approach to understanding behavior?
When a behavior takes place, professionals consider what takes place before the behavior occurred (the antecedent) and what takes place after the behavior occurred (the consequence). The ABC approach allows analyst to track behavior for patterns, trends, and other factors that may provide insight on why an individual is behaving in a certain way. An example of a familiar chart using the ABC approach is below.
***all scenarios are made up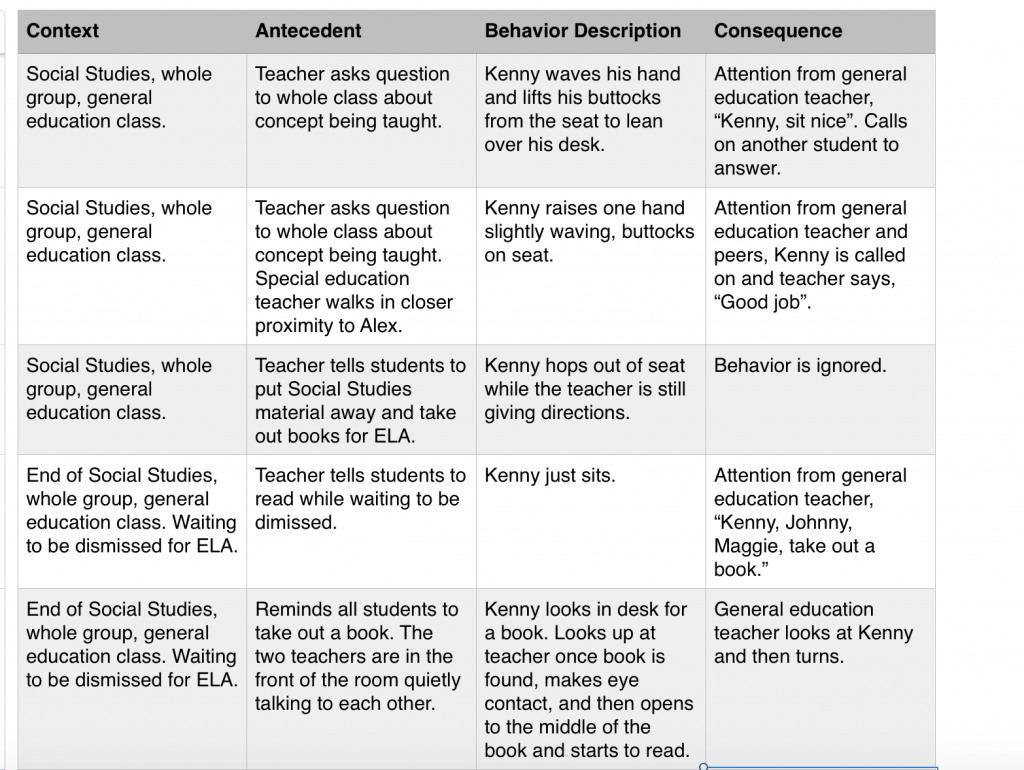 Why is ABA helpful?
Behavior analysts can help individuals adapt to their environment as well as train care givers various effective ways to prevent and react to problem behaviors displayed by an individual. It also can help individuals achieve personal goals and shape their behavior in a way that is beneficial. ABA is used in public and private schools, hospitals, group homes, mental care facilities, rehab centers, self-help institutes, and specialized disability learning centers.